Spa Trial Pack - Special Price of Only $60.00.

Adding to cart will take you to Our sales site, EnviroSpaPool.com.au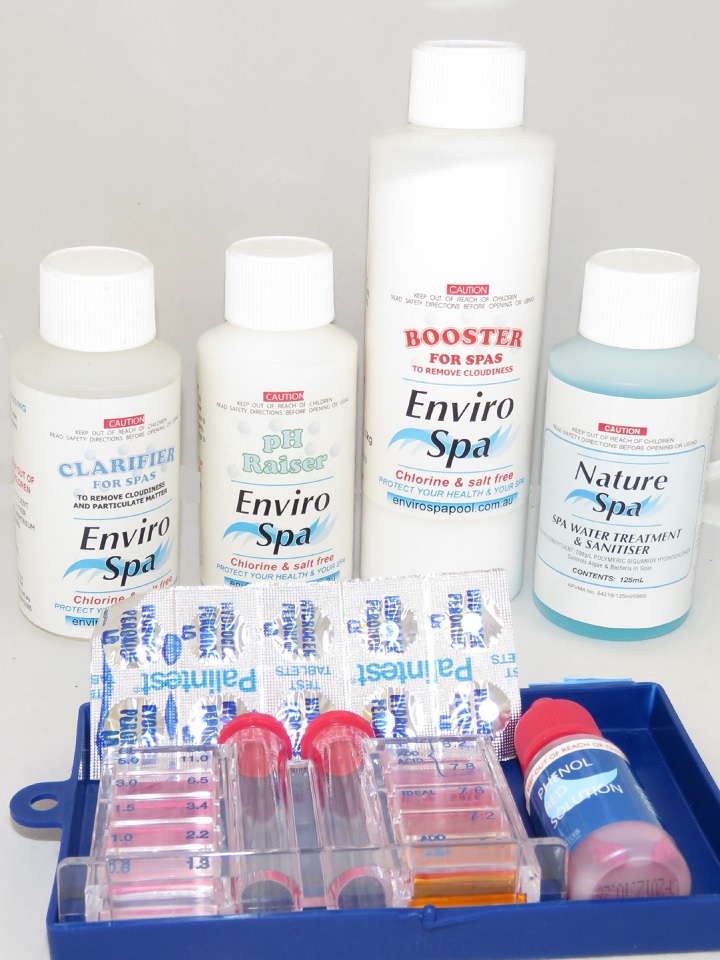 FOR NEW CUSTOMERS - 1 PURCHASE ONLY
1 x 125ml Water Sanitiser
1 x 125ml Enviro Clarifier
1 x 250g Enviro Booster
1 x 125g Enviro ph Raiser
1 x Test Kit
It's the easy system for healthy, good looking spas.
No chlorine, No gadgets.
It is a simple and cheap method for keeping your spa clean and sanitised without the use of chlorine, salt chlorinators, ionisers or dubious chemical miracles or magical devices.
It uses Enviro Sanitiser, a broad spectrum bactericide (biquanide). Biguanide refers to a positively charged polymeric-based sanitiser known as PHMB (poly hexamethylene biguanide).
The Enviro System is approved and registered by the APVMA (Australian Pesticide Veterinary Medical Authority) as a method of sanitising your spa. The Enviro system was designed for use in spas for people allergic to chlorine and other common chemicals.
Used for over 15 years in Australia, it is the premium method for chlorine-free, economical treatment of private spas.
Imagine the ease of dosing your spa or swim spa just once a week and feeling safe using a non chlorine sanitiser.
Nature Spa is 50% more economical than other purifiers. It's hypo allergenic, APVMA registered and approved, and most importantly, it's easy on the environment. Best of all it's fresh water! No need to shower afterwards when you use Nature Spa.
Easy to use once a week dosing

Replaces all other chemicals

Easy on the environment

Non toxic

Allergy Free

No set up cost or special equipment

No salt or chlorine and 50% more economical than other purifiers

Harmless to you and your family, no more stinging eyes & completely safe for children and babies

Kind to your swimwear

Will not harm your spa or spa cover

Kind to spa pump and equipment and accessories

Conserves water

No lasting effect on the environment